Elizabeth Van Moppes Is Speaking At The WSBA's Series Decoding The Law: Sexual Harassment: How Is #Metoo Transforming The Workplace?
Posted Mar 16, 2018
By Washington State Employment Law Lawyer Elizabeth L. Van Moppes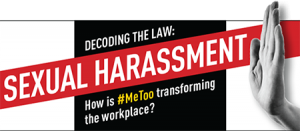 On Wednesday, March 21, 2018, the Washington State Bar Association's Decoding The Law Series will center on #MeToo and how we now view sexual harassment in the workplace. Ms. Van Moppes will be a panel speaker at this event which will also be available via live webcast as well as recorded for viewing after the event. The public and members of the Bar are invited to attend and participate in this discussion. For more information, please see the WSBA website at https://www.wsba.org/News-and-Events/Decoding-the-Law.