CHAIR – DIVORCE AND FAMILY LAW | ADOPTION & ASSISTED REPRODUCTION
Dimitra S. Scott
Dimitra is the chair of both the Divorce & Family Law and Adoption & Assisted Reproduction practice groups at Beresford Booth PLLC where she brings compassion and a balanced perspective to clients. She is also a fellow for the Academy of Adoption & Assisted Reproduction Attorneys (AAAA), a leading organization that sets the highest standards for its members.
Dimitra guides families through the adoption process, advising prospective adoptive families through their match process, decisions regarding the best choice of law for their situation, and through the legal process to complete their family. Dimitra also guides birth parents in placement with a loving family to meet their individual needs. Whether finalizing a DCYF foster-to-adopt placement, advising clients regarding a second-parent adoption, or guiding individuals to confirm their family through an adult adoption, Dimitra works with each client to understand and meet their unique needs.
For clients seeking to form a family through Assisted Reproduction, Dimitra advises intended parents through the legal process of their journey, including preparation of Agreements for Gestational Surrogacy, Genetic Surrogacy, Ova Donation, Embryo Donation, and Sperm Donation. Dimitra also helps parties who wish to donate gametes or carry a child as a surrogate in review of Donor Contracts and Surrogacy Agreements. She also advises clients on the best way to confirm parentage to create and secure each client's unique family. Dimitra recognizes that no two clients are the same, no two families are the same, and she strives to understand and support each individual's goals to guide them through the process.
Raised in the Pacific Northwest, Dimitra graduated from Henry M. Jackson High School in Mill Creek where she enjoyed playing soccer and fastpitch softball. She graduated Magna Cum Laude from Menlo College in California while continuing to play fastpitch. Dimitra joined Beresford Booth in 2004, after graduating Cum Laude from Seattle University School of Law, and became a partner in 2016. Outside of the office, Dimitra resides with her family in Snohomish. In her free time, you will find Dimitra cheering at her children's sporting events, enjoying the outdoors with family and friends, and volunteering to support individuals with special needs.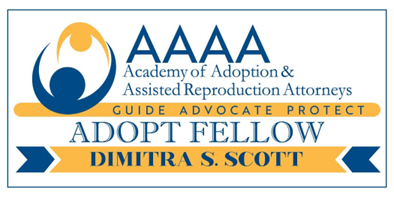 Washington, 2004
United States District Court for the Western District of Washington
---
Seattle University School of Law, J.D.
Menlo College, B.S., (Major: Business Management; Minor: MIS)
---
Washington State Bar Association (Member: Family and Litigation Law Sections)
King County Bar Association
Snohomish County Bar Association
Washington Women Lawyers
Domestic Relations Attorneys of Washington
American Academy of Adoption & Assisted Reproduction Attorneys
---
Seafair Special People's Holiday Cruise
Rush Soccer Club
Snohomish United Soccer Club
Archbishop Murphy High School