Beresford Booth Supports Pacific Little League All Stars Trip To California
Posted Aug 8, 2016
By the Lawyers at Beresford Booth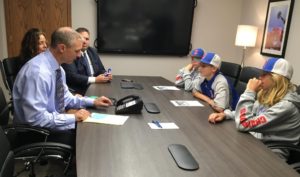 The Pacific Little League (PLL) All Stars won the Washington State championship and are now in San Bernadino California at the Northwest Regional Championship representing Washington.
Prior to leaving for San Bernadino, three of the players from the PLL All Stars team met with attorneys from Beresford Booth where they received a check from the firm sponsoring their trip.
PLL All Stars won their first game of the Northwest Regional Championship versus Wyoming 15-1 and are slated to play Oregon (Bend North) on Monday, August 8th at 7:00pm. The game will be televised on ESPN 3.
The attorneys and staff of Beresford Booth wish the PLL All Stars the best of luck (and skill).