Washington Transitions From "Stay Home" To "Safe Start"
Posted Jun 1, 2020
By Washington State Business & Real Estate Lawyer Todd J. Cook
On May 31, 2020, Governor Jay Inslee issued his latest amendment to the "Stay Home – Stay Healthy" order.  The Governor originally issued his "Stay Home" order  on March 23, 2020.  Prior to May 31, the Governor amended the order three times, on April 2, 2020, April 27, 2020 and May 4, 5020.  Each of the prior amendments extended the "Stay Home" deadline, amended and/or refined the personal and business activities that were exempt from the "Stay Home" requirement, and addressed the precautionary measures (social distancing and sanitation measures) that should be observed when outside of the home.  The May 4th amendment extended the "Stay Home" deadline to May 31, 2020, launched a 4-Phase "Safe Start Washington" phased re-opening plan, and placed each of Washington's counties into Phase 1.  Except as specifically-addressed in the new order, the Governor's May 31st amendment, titled "Transition from 'Stay Home – Stay Healthy' to 'Safe Start – Stay Healthy' County-by-County Phased Reopening," extends the order's deadline to 11:59 p.m. on July 1, 2020 and revises the Safe Start Washington reopening plan.
Revised "Safe Start Washington" Plan
The most significant change announced in the new amendment is the updated "Safe Start Washington" Plan.  The original plan outlined four phases – each of which would last at least 3 weeks – and included a program for certain low-density counties to apply for a variance for early admission to Phase 2.  Under the new amendment, "Safe Start Washington" is now a plan for "Phased Reopening County-By-County."  Beginning on June 1, 2020, the new plan "will allow any county that has been in Phase 1 or 2 for three weeks to apply to the Secretary of Health to move in whole or in part to the next phase."  This means that every county in Washington state is now authorized to apply for admission into Phase 2.  Additionally, Columbia, Ferry, Garfield, Lincoln, and Pend Oreille counties (all admitted to Phase 2 on May 8, 2020) and Skamania, Stevens and Wahkiakum counties (all admitted to Phase 2 on May 11, 2020) are now immediately eligible to apply to admission to Phase 3.  Once admitted to the next phase a county will remain in the new phase for at least three weeks.
The revised Safe Start Plan sets forth metrics to guide the Secretary of Health in his consideration of applications to advance an applicant county to the next phase of the plan.  The metrics relate to (i) health care system readiness, (ii) testing, (iii) case and contact investigations, and (iv) the ability to protect high-risk populations.  The metrics set forth targets, not "hardline measures."  Therefore, it appears that the Secretary of Health will have discretion to grant an application even if certain metrics have not yet hit the target levels.
Under the new plan, the Secretary of Health is authorized to grant an application in whole or in part.  If an application is granted only in part, a county would remain in its current phase (e.g., Phase 1) but certain activities associated with the next phase (e.g., Phase 2) may become available within the county.
In addition to revising the eligibility requirements for advancing to the next phase of the plan, the new Safe Start Washington plan includes minor adjustments to what activities are authorized in each phase.  For example, "Library (curbside pick-up)" has been added to Phase 2.  Here is the new 4-phase chart (which can also be found at page 9 of the Safe Start Washington plan):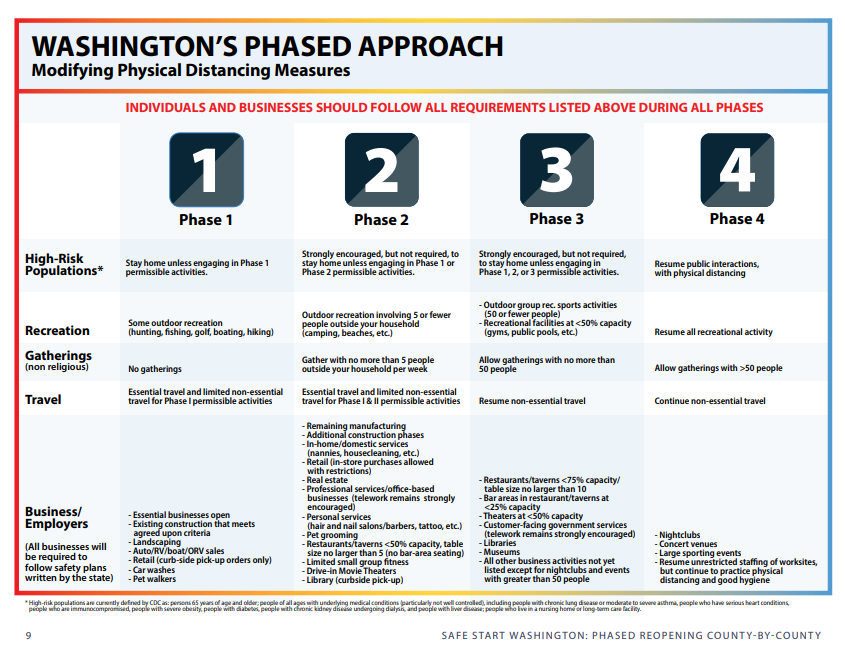 Social Distancing, Face Coverings & Guidance for Employers
Echoing comments the Governor made during his May 1, 2020 press conference, the May 31 "Safe Start" amendment finds that it will be necessary to continue "some level of community intervention to suppress the spread of COVID-19" until an effective vaccine or treatment is available or "herd immunity" has been achieved.  Accordingly, the Governor recommends that, throughout all phases of the plan "[i]Individuals should continue to engage in personal protective behaviors" including, among other things, social distancing, wearing cloth masks while outside the home, and remaining home when sick.  For the most part, these are recommendations (note the use of "should" not "shall").  However, the new plan does require facial coverings in certain business settings:  "beginning on June 8, 2020, when on the job, all employees must wear a facial covering except when working alone or when the job has no in-person interaction as detailed in the Safe Start Washington Phased Reopening Plan." (italics added for emphasis).  While this requirement is in place, employers will be required to provide "cloth facial coverings to employees, unless their exposure dictates a higher level of protection."  The beginning date of this requirement of June 8, 2020 apparently gives employers a week to procure the facial coverings they will be required to provide to their employees.
Other requirements for "All Employers" can be found on Pages 5-6 of the new Safe Start Washington plan.
Over the past month, the Governor's office issued extensive industry- and activity-specific guidance (all of the Governor's guidance can be found here).  This guidance remains in place under the new plan, but it may be updated or modified.
Looking Forward to July and Beyond
Over the past three months, the Governor altered his "Stay Home" order on numerous occasions.  As of June 1, 2020, much of the state is admitted to Phase 2 and will soon be eligible (or is now eligible) to apply for admission to Phase 3.  A significant portion of the state, however, remains in Phase 1 and is just now becoming eligible to apply for entry to Phase 2.  With each phase lasting at least three weeks, under the best-case scenario, it would seem that much of the state will still be in Phase 2 or 3 at the end on July 1, 2020 when the current amendment expires.  The state will no doubt experience considerable change over that time.  I will not be surprised if the Governor announcing a new amendment to the "Safe Start" amendment with additional tweaks to his plan on or around July 1st.
BERESFORD BOOTH PLLC has made this content available to the general public for informational purposes only. The information on this site is not intended to convey legal opinions or legal advice.