Beresford Booth Adds Seasoned Family Law Litigator Amanda N. Gamble To Team
Posted Sep 20, 2023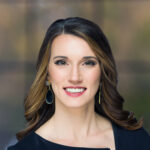 Beresford Booth is proud to announce the addition of Amanda N. Gamble, a seasoned family law litigator, to its growing team.
Amanda is an accomplished family law litigator with over 10 years of experience representing families and individuals in all areas of family law. She recognizes the sensitivity of family law matters and knows her clients come to her seeking help at some of the most challenging times in their lives. Amanda is compassionate and dedicated to providing sound judgment and honest perspective as she guides her clients through complex divorce litigation, parentage actions, child support modifications and more. Her depth of knowledge and skills continues to strengthen the dynamic family law team at Beresford Booth.
"Amanda is a dynamic advocate with a demonstrated record of success. We are pleased to welcome Amanda as a member of our team" said Dimitra Scott, Partner at Beresford Booth who leads the Family Law/Adoption/Assisted Reproduction team.
Prior to joining Beresford Booth, Amanda advocated for clients at a law firm in Bellevue and has honed her skills across three different states. She received her Juris Doctorate from Oklahoma City University School of Law in 2014. She went on to earn her LLM in Environmental Law from Vermont Law School Master of Laws (LLM) program in 2019. She currently serves as a State Board Member for Washington Women Lawyers and volunteers for the Snohomish County Legal Services Clinic, Eastside Legal Clinic and Legal Voice.
About Beresford Booth
Founded in 1946, Beresford Booth is the largest law firm headquartered in Snohomish County. We are a full-service law firm with locations in Edmonds and Bothell. We provide a full range of legal services to businesses and individuals throughout the state of Washington. The Beresford Booth team proudly serves as trusted and independent advisors to our clients, providing creative and timely solutions to their most complex legal challenges across a wide range of legal fields.
To learn more about Beresford Booth, please visit our website at beresfordlaw.com to find out how we can help you.