Beresford Booth is proud to announce the addition of C. Michael Kvistad, an accomplished business and real estate lawyer, to its growing team.
Posted Nov 8, 2023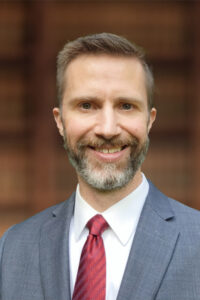 Michael is a skillful business and real estate lawyer with nearly two decades of experience supporting clients in a range of corporate and real estate matters.  Michael has a robust business practice where he concentrates on the areas of forming businesses, acquisitions and mergers, and general business matters. Integrity, curiosity and diligence are the hallmarks Michael uses to his clients' advantage.  His depth of knowledge and proficiency continue to strengthen the dynamic business and real estate team at Beresford Booth.
"Michael brings a wealth of experience, knowledge and passion to his clients and our team. His dynamic approach to the practice of law is a great fit," said David Tingstad, Partner at Beresford Booth and chair of the Business and Real Estate team.
Prior to joining Beresford Booth, Michael was a longtime shareholder at Anderson Hunter in Everett, Washington. Michael is thrilled to be working back in his hometown of Edmonds where he was born and raised. He is an active member in the community, including as a member of the Rotary Club of Everett where he will serve as President for the 2024–2025 term. Since 2015, he has been an affiliate member of the Snohomish County Camano Association of Realtors. Outside of the office, he enjoys professional cycling, musical theater, and spending time at the beach with his wife, kids and their dog.
About Beresford Booth
Founded in 1946, Beresford Booth is the largest law firm headquartered in Snohomish County. We are a full-service law firm with locations in Edmonds and Bothell. We provide a full range of legal services to businesses and individuals throughout the state of Washington. The Beresford Booth team proudly serves as trusted and independent advisors to our clients, providing creative and timely solutions to their most complex legal challenges across a wide range of legal fields. To learn more about Beresford Booth, please visit our website at beresfordlaw.com to find out how we can help you.